copyright © Wartime Heritage Association 2012-2023
Website hosting courtesy of Register.com - a web.com company
Wartime Heritage
ASSOCIATION
Remembering World War I
Yarmouth Connections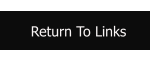 France, September 8, 1918
Dear Mr. and Mrs. Doane
I am writing this note to extend to you my deepest
sympathy in the death of your son Private J. F. Doane
killed in action September 2, 1918 and to express my
appreciation of his qualities as a soldier.
We shall miss him in the Company. He did his duty
well and the day he was killed was advancing gallantly
against the foe. He died like a brave soldier likes to die
... on the battlefield fighting a winning battle.
He was killed instantly and after the battle was
over he was laid to rest along with the rest of his
comrades who fell with him that day.
Your heart will be sad and lonely but you have the
consolation your boy did his duty in the supreme testing
hour and he was not found wanting.
His sacrifice will not be in vain. We shall carry on
until victory is ours and peace again reigns amongst us.
Yours very sincerely
R.C. Jackson, Capt.
O C "D" Co'y 85th Batt Canadians
B E F France
France, September 13, 1918
Dear Mr and Mrs. Doane
I regret to have to perform such a painful duty as
presents itself to me now. I happen to be an officer in
command of the platoon in which your dear son was
killed in action on Sept. 2 and feel it is my duty to try
and write a consoling word.
I do not hesitate in saying I feel sure he has gone to
a more peaceful land.
He was a boy who did all he was commanded to do
and inn a cheerful way, whatever the circumstances,
realizing it was a duty he owed God, his King and his
Country.
It is sad, no doubt, but the great honor he has won
by making the supreme sacrifice for his country will live
forever and will earn him an eternal reward of joy and
happiness.
I assure you have the sincere sympathy of his many
friends here in this, your bereavement.
Yours truly
Raymond Sampson
85th Canadian Battalion, France
(Official Notice from Ottawa)
"Deeply regret to inform you that 282673 Pte James
Freeman Doane, Infantry, officially reported killed in action
Sept 2, 1918."
Minister's Office, Ottawa
Oct 8, 1918
In the Field, France
September 14, 1918
Dear Mr. Doane
Long before this letter reaches you word will
have come informing you officially that your son has
been killed in action.
He came to this battalion on the 4th of August
1917 from the N.S. Reserve Battalion in England.
During the operation at Passchendaele on the
30th October he was wounded in action and
consequently invalided to England for a period of
convalescence and rest.
He rejoined the battalion from Blighty on the
31st August this year. As an original member of the
Nova Scotia Highland Brigade he carried on at all
times in true Nova Scotia fashion with the welfare of
his battalion and the successful prosecution of our big
task always at heart. He could be depended upon to
conduct himself, whether in or out of the line, in a
manner reflecting credit upon himself and his
associates.
The circumstances surrounding his death have,
no doubt, been written you by his Company or his
Platoon Commander. Briefly, they are as follows: at
about 5;10 am on the 2nd September while advancing
with his company, "D" co'y towards enemy positions
during the recent successful operations by the
Canadian Corps, he was hit in the breast by a machine
gun bullet causing his death instantly.
The sympathy of all the officers, NCO's and men
of the battalion is extended to you in your loss which I
hope will be somewhat lightened by the knowledge of
his commendable life, his heroic death and the cause
for which the sacrifice was made.
Sincerely yours,
J. L. Ralston. Lieut. Colonel
Commanding 85th Canadian Infantry
Battalion Nova Scotia Highlanders
85th Can Inf Batt France
Sept 18, 1918
Mr Edward Doane
Yarmouth North, N. S.
Dear Mr. Doane
I wish to convey to you my sincere sympathy in the
loss of your heroic and noble son during this last big
offensive. Your boy was advancing when he received his
fatal wound but not before he had done his duty
magnificently.
Your son was a splendid soldier, fearless and brave in
doing his appointed task. He is very highly spoken of by
both officers and men and we all feel we have sustained a
big loss in the decease of such a fine gentlemanly fellow.
I buried his body at Visc-en-Artois Cemetery along
with many of his comrades. A suitable cross marks the
grave of one of Canada's finest soldiers and men. May God
bless and sustain you in this hour of trial.
Sincerely,
Bruce Hunter
Captain and Chaplain
The following battle information is taken from
"THE EIGHTY-FIFTH in FRANCE and FLANDERS"
By LT. COL. JOSEPH HAYES. D. S. O., C A. M. C.
September 1st and 2nd 1918 (85th Battalion - Scarpe Operation)
(Private James Freeman Doane was with the 85th Battalion, "D" Company)
The Drocourt-Queant line was a part of the Hindenburg line of defence, and consisted, usually, of three lines of
trenches and a support line, all provided with heavy belts of barbed wire. These trenches were well supplied with
machine guns and other weapons, located in carefully selected and prepared positions so as to be most effective in
defence, the whole supported by artillery thoroughly familiar with the ground and registered on every target. The system
of dugouts was very elaborate, and the extensive use of concrete made the job of wresting it from the Hun a task of great
magnitude.
The Germans attached great importance to keeping this
prepared defensive system intact, and a desperate stand was
expected.
Several days were spent in preparations in the way of organization
and equipment, with bombs, ammunition, rations and water. On the
31st orders were received that the attack would be on Monday
morning Sept 2. The Battalion at once moved into the line, taking over
from the Duke of Wellington's Regiment, Imperials, and from the 5th
and 18th Battalion Canadians.
"B" Company went into the front line with "C" in close support and "A" and "D" in reserve. The intervening ground
held by the German forces had strong machine gun posts.
About 10 am that Sunday morning, September 1st, a strong German counter-attack developed from the direction of
the Hendecourt-Dury road. The weight of it was not felt on the 85th Battalion frontage, but the 72nd and the right half of
the 38th stood the brunt of it and completely repulsed three determined efforts by the Germans to break through the
12th Brigade line, during which over a hundred German prisoners were taken. "C" Company was moved up closer for the
purpose of counter-attacking if necessary, but they did not have to be used.
An attempt was made on the night of the 1st and 2nd September by two platoons of "C" Company to advance the line. It
was partially successful, though Captain Hallett was wounded and several severe casualties were suffered. Efforts were
made to have the barrage line altered but this was not practicable on account of the situation on the right and left.
The Battalion had therefore to take on the additional task of cleaning up this intermediate area in the attack.
The plan was that "A" and "D" Companies were to jump off first with "A" on the right, and take the first 3 trenches of the
Drocourt-Queant system, the 3rd trench being across the Hendecourt- Dury road. "B" Company was to follow, leap-
frogging "A" and "D", and taking the Drocourt-Queant support line on the western edge of Mt. Dury. "C" Company, less one
platoon, was then to leap-frog "B" and make good the sunken road leading from the factory near Villers to Dury and
running past the windmill on top of Mt. Dury. The remaining platoon of "C" Company was detailed to mop up the enemy
posts in the area not covered by the barrage, after which they were to follow on and join their company.
The orders were that there should be mutual support between the companies and that those detailed for the intermediate
objective should, if the situation demanded, press on to assist the other companies in making good the final objective,
the sunken road.
"A" Company was commanded by Capt. R. D. Graham, "B" by Capt. H. A. Love, and "C" by Capt. E. J. Hallett and
"D" by Capt. R. C. Jackson.
Zero hour was fixed at 4.20 am on Monday the 2nd of September. The assembly was completed immediately behind
our advance line of outposts an hour before that time.
At zero hour the Battalion jumped off and met, as had been expected, with very severe resistance from the enemy
line of machine gun emplacements immediately in front of "C" Company's advance posts. Very severe hand-to-hand
fighting was encountered and some 30 heavy machine guns captured before the line laid down for the original jump-off
was reached. The German machine gunners exhibited courage of a high order and persisted in working their guns to the
end, and could only be silenced by the bullet or bayonet.
In advancing the first 300 yards the casualties were about half those suffered during the whole action. Lieut.
Holland together with 22 other ranks was killed and numerous severe casualties sustained in the gallant charges against
these Hun posts.
The advancing waves of the 85th caught up with the main line of advance before the Drocourt-Queant line was
reached and attained their objectives at 6.15 am after considerable resistance.
This was the breaking of the much-vaunted and so-called impregnable Hindenburg line, the final German system of
organized defences.
Owing to the severe machine gun fire encountered during the advance it was found necessary to reinforce "B" Company
in order to enable it to continue forward to the intermediate objective, the Drocourt-Queant support line. "C" Company
had also met with severe casualties, and a platoon of "A" and one of "D" Companies was attached to "C" for the assault
on the final objective.
In the face of withering machine gun and artillery fire the final wave went forward over the summit of Mt. Dury. The
enemy laid down a very severe barrage of heavy artillery on this position and between this and the rain of bullets the
attacking waves were decimated.
The remnants of the attacking party took up a position in the Drocourt-Queant support line for the purpose of
reorganization. Here they were reinforced by the troops in that line, these being made up from all three other companies
of the 85 battalion.
Capt. Love of "B" Company became a casualty at a critical juncture in this final advance and Lieut. W. B. Ross took
command. He and Lieut. J. A. MacKinnon organized a party of rifle grenadiers and immediately put on a smoke barrage,
under cover of which the attacking wave again dashed forward under Capt. Jackson, driving the enemy from the sunken
road and establishing a line of outposts 150 yards in front, in the camouflaged machine gun positions which a few
moments before had been working havoc with our troops. The final objective was thus won at 8.40 am.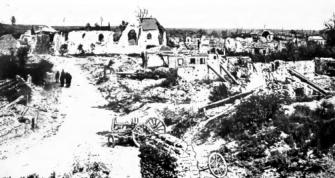 Name:
Service No:
Rank:
Battalion/Service:
Date of Birth:
Place of Birth:
Date of Enlistment:
Place of Enlistment:
Address at Enlistment:
Age at Enlistment:
Height:
Complexion:
Hair Colour:
Eye Colour:
Previous Military:
Martial Status:
Trade:
Religion:
Next of Kin:
Date of Death:
Age at Death:
Cemetery:
Grave Reference
James Freeman Doane
282673
Private
219th Battalion;
"D" Company, 85th Battalion
January 23, 1897
Yarmouth, NS
March 13, 1916
Yarmouth, NS
Yarmouth, NS
19
5 feet, 3½ inches
medium
brown
brown
29th Battery, Canadian Field Artillery, Yarmouth
(Recruit)
Single
Plumber
Baptist
Edward Doane (Father) Yarmouth, NS
September 2, 1918
21
Vis-En-Artois British Cemetery
Haucourt, Pas de Calais, France
I. E. 3.
Commemorated on Page 398 of the First World War Book of Remembrance
Displayed in the Memorial Chamber of the Peace Tower in Ottawa on August 28
Yarmouth Memorial, Yarmouth, NS
James Doane was the son of Edward and Ella
Doane, of Dayton, Yarmouth Co., NS. Prior to his
enlistment he was employed at J. K. Fleet
(plumbing and sanitary engineering).
He enlisted at Yarmouth with the 219th Battalion
and embarked Canada at Halifax (

SS Olympic

) on
October 12, 1916 and arrived in England on
October 18, 1916. He was transferred to the 17th
Reserve Battalion at Bramshott on January 22,
1917 and to the 85th Battalion for service in France
on July 1, 1917 and joined the Battalion in the field
on August 4, 1917.
He was admitted to No 8 Canadian Field Hospital on
October 30, 1917 having suffered a gun shot wound
to his ankle at Passchendaele. He was transferred
to No 56 General Hospital at Etaples on November
1, 1917. He was invalided to England on November 9, 1917
and posted to the Nova Scotia Regimental Depot at Bramshott
and attached to No. 2 Canadian Convalescent Depot. He was
taken on strength with the 17th Reserve Battalion on April 5,
1918.
Private Doane rejoined the 85th Battalion in the trenches in
France on August 21, 1918. During military operations in the
vicinity of Dury about 5:10 am on the morning of September
2, 1918, he was hit in the breast by an enemy machine gun
bullet and instantly killed.
He was buried in Vis-En-Artois British Cemetery, Haucourt,
Pas de Calais, France. Phil Porter, great-nephew of James
Doane, visited the grave in 2012 and placed the small
wooden cross.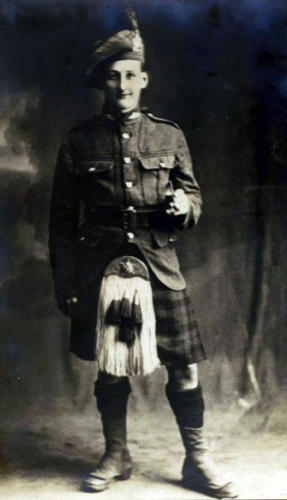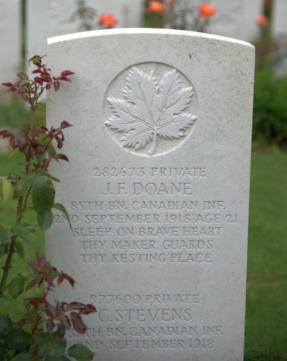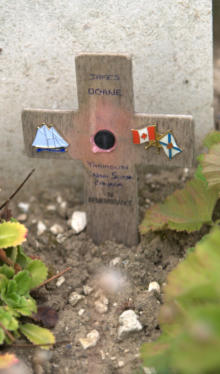 Sources:
Library and Archives Canada
Canadian Virtual War Memorial
"A Monument Speaks"
Arthur Thurston (1989) pp. 131-135